2017 Annual VFP Convention
More information here: https://www.veteransforpeace.org/2017-annual-convention
Located at the beautiful and historic Palmer House, veterans and allies will gather to discuss "Education Not Militarization". Registration begins on Wednesday, August 9th and ends on August 13th with a benefit concert by Jackson Browne. The week will be filled with amazing workshops, discussions, community and music. Veterans For Peace and the local Chicago Chapter has put together an amazing list of speakers to talk on a variety of subjects that reflect the broad range of work our members do for peace and justice. Our speakers will touch on Abolition of Nuclear Weapons, Palestine, Standing Rock, current wars in Afghanistan and Iraq, our military involvement around the globe, Korea and efforts to build and link Peace At Home and Peace Abroad. Speaker information here: https://www.veteransforpeace.org/2017-annual-convention/speakers/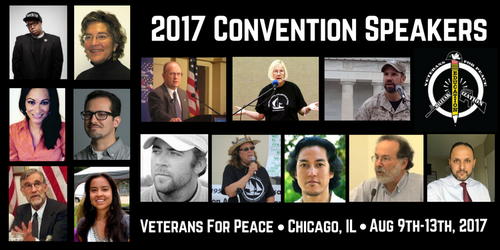 Thursday evening, VFP invites Chicago veterans to attend a Veterans Town Hall: Education Not Militarization at 7 p.m. (First United Methodist Church, 77 W Washington St # 2, Chicago, IL 60602). Veterans will discuss how increased militarization and inadequate education impact immigration, violence, sexism, the environment, policing and the social and psychological well being of our neighborhoods. Town Hall information here: https://www.facebook.com/events/1512690828792339
Friday will be full of more amazing workshops and speakers.
Friday evening, Veterans For Peace is proud to host the 1st Annual Power to Peace Festival at the Vic Theater featuring a wide variety of musical performances and spoken word artists. Festival Information here: https://www.facebook.com/Powertopeacefestival/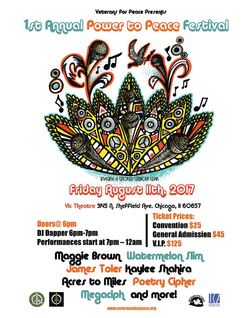 Saturday will be the annual opportunity for Veterans For Peace members to weigh in at our Business Meeting.
Saturday evening, as we gather for our annual Banquet, we are excited to announce that Col. Lawrence Wilkerson will be our keynote speaker.
Sunday, Veterans For Peace will March for "Education Not Militarization! Support Children, Youth, Community", mustering at at 11:30 am in the Monroe Street lobby of The Palmer House.
Sunday evening we will wrap up with the amazing Jackson Browne, who has generously offered to host a concert to benefit Veterans For Peace. Get tickets here: https://www.ticketfly.com/purchase/event/1493447
We look forward to seeing you in Chicago this year!